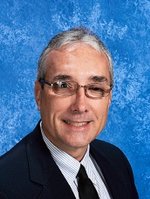 R. Clark McKeon, Ph.D.
(918) 788-3129
Email
I was born and raised in Bartlesville, OK. However, my ties to the Welch community run deep. My mother, Jimmye Lou Dobkins McKeon was born and raised in Welch and is a 1946 graduate of Welch High School. My grandfather, J. A. Dobkins, served on the Welch Public School Board of Education from 1913 through 1925. In 1925, his last year on the school board, the Star (WPS Annual) was dedicated to him in recognition of his 12 years of service as school board member. My grandmother, Ola Inez Dobkins, succeeded her husband as president of the Welch State Bank in the mid 1930s. I have many fond memories of spending weekends and summers in Welch at my grandmother's house.
I graduated from high school in 1976. After several semesters of college at O.S.U. in Stillwater, I lived and worked in Bartlesville until 1981. In 1981, I returned to Stillwater and completed a B.S. in Industrial Arts Education in 1984. That year, during Spring Break, my darling Tami and I exchanged wedding vows and began our life together. We have three wonderful children and celebrated our 26th wedding anniversary this year.
In 1988 I completed a M.A. and in 1992 a Ph.D. in Educational Administration at the University of Tulsa. Soon thereafter, we moved to Enid, OK where I taught Industrial Arts at Enid High School for four years. Then we move to western Oklahoma where I served as K-12 Principal in Ft. Supply, OK for two years. In 1998, we made the move to Welch. I served as Welch JH/HS Principal for three years and was promoted to Superintendent in 2001. This is my 10th year as Welch superintendent. It has been my honor to live in Welch and work for Welch Public Schools over the past twelve years.